The role of sport in breaking down cultural barriers and increasing community cohesion is set to prove its value yet again following the launch of some major new social integration strategies.
It was announced last week that five English councils – Bradford, Blackburn, Peterborough, Walsall and Waltham Forest in London – are to adopt new integration plans to deal with problems of segregation. The government's Integrated Communities Strategy will see £50million invested in schemes to improve community relations over the next two years.
Later in the week the Mayor of London, Sadiq Khan, launched a new fund designed to bring together more families from all backgrounds in the capital. The 'London Family Fund' will help parents across the city build social networks and support each other, with sport and physical activity programmes specifically being targeted. This was followed this week by the new 'Sport Unites' programme, part funded by Comic Relief.
Here ConnectSport showcases a series of sport-based projects and programmes which are aimed at increasing social integration and community cohesion:
MIDDLESBROUGH – Middlesbrough Football Club work with local company Media Cultured CIC to create events that promote and encourage inclusion and equality within the club and the wider community. The events are designed to increase awareness and understanding around social cohesion and tackling racism and extremism. Workshops have included a workshop for club staff at a local Mosque, and free stadium tours for local BAME groups. They also staged a charity football tournament at the Riverside. The club's Chief Operating Officer Mark Ellis said: "The promotion of inclusion and diversity is essential to counteract the negative impact of extremism in our society. Middlesbrough Football Club is proud of its position as a major institution in the Teesside region and accepts its responsibility to support activities to raise awareness of the dangers of all forms of discrimination."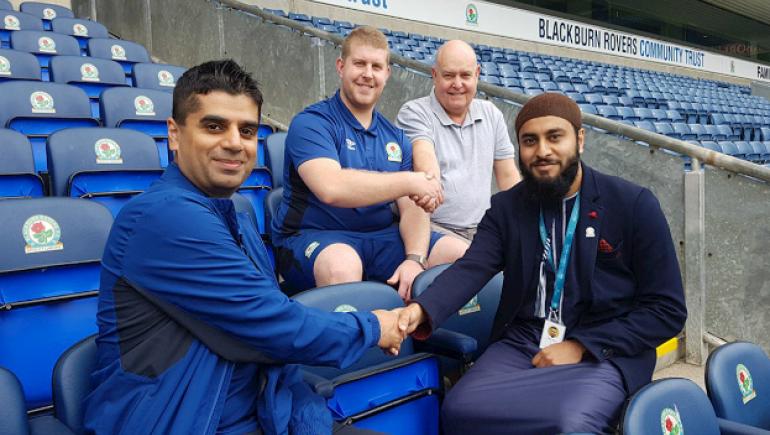 BLACKBURN – The Inter Madrassah Organisation (IMO) [Sported member] uses weekly sports activities and tournaments as a tool to engage with and bring together members of all ages and backgrounds of the community together under one roof. This includes football, cricket, women's netball, a girls multi sports club and various tournaments which include volleyball and cricket. They staged their Annual Multi-Faith Football Tournament at Blackburn Rovers' training centre at Brockhall last July. It was attended by around 600 junior players from a variety of backgrounds and representing 60 teams across the North-West of England. IMO chief executive Stephen Jones said: "The inter-faith football tournament is not about finding the next football star, it's about working in partnership with Blackburn Rovers Community Trust and its huge brand to engage with as many young people as possible to encourage them to participate in positive activities which promote community cohesion, safety and more importantly an uptake in healthy lifestyles."
LONDON –Salaam Peace [Sported member] runs community engagement programmes in Waltham Forest and Hackney, two of the most diverse areas in the UK. Its initiatives use sport, media and education to bring people together from diverse backgrounds and tackle issues which could lead to communities becoming polarised. So for example, it promotes positive images of Islam as well as providing activities for those that may be at risk of anti-social behaviour or have been in the Criminal Justice System. Founder Sabir Bham explained: "Through our work, Salaam Peace uses every possible opportunity to shine a light on the achievements of members of the community who also work tirelessly to promote community cohesion and human values such as fairness, kindness and compassion." The organisation's volunteers also mentor young people to achieve their potential and give back to the community by becoming Community Champions.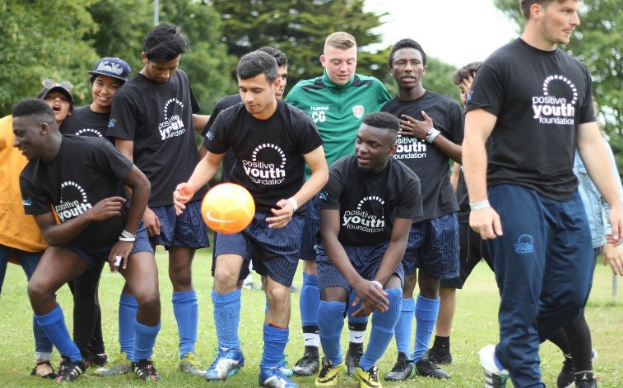 COVENTRY – The Alliance of Sport's recent report into the role of sport across criminal justice highlighted 13 organisations using sport to achieve social cohesion, reduce crime in local communities and rehabilitate offenders. One of those organisations was Positive Youth Foundation [Sported member] which works with local partners and volunteers in Coventry to deliver programmes for some of the city's most challenged individuals. The Foundation's 'Involved' programme uses sport to work with newly-arrived, asylum-seeking and refugee young people and their families. Rashid Bhayat, founder and director of Positive Youth Foundation, explained: "We try to ensure that identified young people have the right support mechanisms in place to be able to become active, positive and involved members of the community. We want to encourage equal opportunities to access mainstream services and reduce the numbers that are marginalised by their circumstances. This programme looks to help young people become school, community and work ready, by instilling vital transferable social, emotional and lifestyle skills."
BIRMINGHAM –Tanayah Sam is a former gang member who has devoted his life to preventing young people turning to crime and anti-social behaviour. He converted to Islam as a teenager and it was whilst serving a prison sentence that he became a mentor and role model to other inmates. Now he works with young people in schools or prisons who are part of, or at risk of, joining gang culture, as well as those vulnerable to extremist influences. He also offers training for those working in the criminal justice system, giving them deeper insight into the backgrounds and culture of BAME offenders and how to tailor their programmes (especially sport projects) to engage and achieve the highest impact with that particular audience. Tanayah is Co-Chair of the Alliance of Sport for the Desistance of Crime's Positive Action Group for Gangs, Violence and Extremism. He said: "I've seen myself how sport can be a vehicle for changing behaviour. Community sport organisations are places where the young people can let off steam, they can leave all the peer pressure at the gate and have fun. Barriers are brought down and there's really good engagement."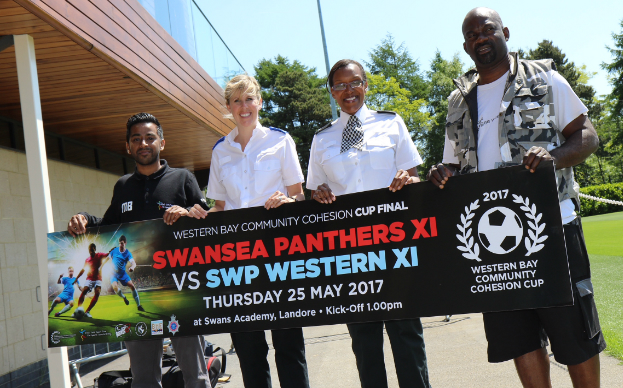 SWANSEA –BME Sport Cymru are working on a two-year project funded by Sport Wales to increase integration and engagement with BAME (Black, Asian and Ethnic Minority) communities. One of the key events is the Western Bay Community Cohesion Cup, which was founded last year by BME Sport Cymru Project Officer Mohammed Basit and Stephanie Callender, who at the time was PCSO Hate Crime Engagement Officer for South Wales Police. Stephanie has since been appointed as Community Co-ordinator for Counter Extremism. Basit explained: "It's all about building trust, breaking down barriers and improving communication between different communities in Swansea." Last year a team comprising asylum seekers and refugees from mainly African backgrounds were amongst the teams competing, along with a predominantly Bangladeshi side and a local police team.
BLACKBURN – AHF Football Club was formed in 2012 by volunteers from Blackburn-based charity Abu Hanifah Foundation. The club is open to children from all faiths and backgrounds, although their players are mainly young Muslims. The Foundation emphasises a progressive interpretation of Islam and aims to nurture wholesome young people who will grow to make a positive contribution to society. In this Guardian article, the club's Head Coach Zuber Patel said: "Blackburn is segregated, everybody knows that but it is about breaking that down, building good relationships and changing perceptions. Things can change, and we can be part of that. That, above all, is what we are here for." The club also organises an annual football tournament to mark Interfaith Week with representative teams of all religions taking part. It's ethos and groundbreaking approach to football has been recognised by the FA with the club being awarded National Charter Standard Club of the Year in 2015 and Lancashire Club of the Year in 2017.
ConnectSport would like to thank all of the organisations mentioned in the article for their assistance, as well as the Sport for Development Coalition, Sported, the Alliance of Sport for the Desistance of Crime, Sport 4 Life and Dame Kelly Holmes Trust.
This article was originally published on ConnectSport. For all the latest Sport for Development news, please visit www.connectsport.co.uk or follow @ConnectSport.