In our latest Sported member showcase we chat to Mickela Hall-Ramsay of HR Sports Academy about establishing a thriving Community Interest Company and the importance of building close relationships with the local community.
Tell us a little more about the work of HR Sports Academy
"We are based in the London borough of Haringey and deliver a wide range of sporting activities and programmes designed to empower young people and help them acquire the skills to positively develop and succeed in life. We run an extensive school programmes consisting of morning and after-school clubs, PE sessions, mentoring and sports days. Not only do our activities improve young people's health and fitness, but also helps them release their energy in a positive way and improves their focus back in the classroom.
Within the community we have a lot of projects going on. We run seven football teams, deliver multisport programmes during the school holidays and have a leadership programme where we work with young people, aged 13 and upwards, on their employability skills. We also have apprenticeships and traineeships – so plenty to keep us busy!"
Why and how did you set up the organisation?
"My brother, Christian, and I have been heavily involved in sports from a very young age. It was during the second year of my Undergraduate degree that my sister passed away. At the same time there was a lot of youth crime happening in our area. When my brother and I were growing up we were very fortunate as there were lots of youth clubs and activities available to keep us safe and on the straight and narrow. Nowadays, young people in our area aren't as lucky – a lot of it has stopped as a result of government funding cuts. So I applied for a grant to put on a one-off project to develop community cohesion in Haringey. I absolutely loved the project, the children loved it and the parents loved it. That was where the fire ignited.
During my Masters in Sports Management I continued to develop the idea. At the time my brother was doing an apprenticeship with LOCOG, so I set it up with the idea of him coming in and bringing his knowledge and experience from the Olympics to help strengthen the organisation."
What makes your community work so effective?
"The secret of our success is our understanding and rapport with the community. Half of our staff have come through our various programmes or school partners, so are very aware of the culture of the organisation and our purpose. When we're working with young people from the local community, our ability to understand them and interact with them is what keeps them coming back for more, or even going on to work for us.
It's our professionalism as well. We deliver the best of both worlds – our activities are fun and enjoyable, but the discipline that we have is something that parents absolutely love. The children love it as well, as they know there are rules and see the benefits of following them. Parents often say to us 'Sorry if they're not behaving', but they are angels when they are with us! It has a lot to do with trust and respect, as it's given both ways."
How do you ensure your activities meet the needs of your community?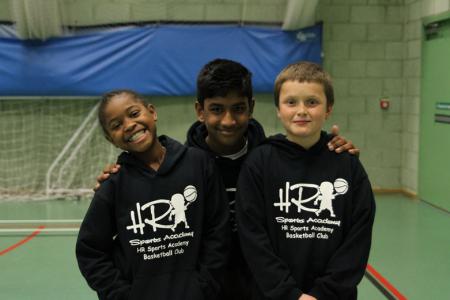 "The young people have a lot of ownership. The organisation was developed on consultations with young people from the borough and it's something we've continued to do over the last ten years.
We also speak to the parents as well, so it's not just a dialogue with the young people. We let the parents know what we expect from their children when they are with us and also at school. It boils down to trust and having that understanding and open communication."
What are your plans for the future?
"The GLA provided us with funding to pilot a youth club over the summer for at-risk young people aged 13 and over. It was absolutely amazing in terms of the number we got and the impact it had on them – we'd like to secure funding to make that more sustainable and a regular thing. We have apprenticeships, but we'd really like to do a football education programme for post-16s, and also expand our work in neighbouring boroughs."
For more information about the work of HR Sports Academy please visit www.hrsportsacademy.co.uk